Journal of Science Technology (JoSTec), e-ISSN: 2830-7275 provides a forum for publishing the original research articles from contributors related to embedded system and control, processor and IC design, network and infrastructure, and computing algorithms. The scope of JoSTec starting from Volume 1 (2019) is as follows: embedded system based on microcomputer/microcontroller; algorithms and artificial intelligence; robotics; control systems; computer vision and pattern recognition; computer networks and security; processor and ASIC design; programable devices based on HDL and IP Core; high-performance computing (HPC); sensor network and IoT; distributed systems; cloud computing, and mobile computing.
Crossmark
Applying the CrossMark icon is a commitment by Journal Science Technology to maintain the content published and alert readers to changes if and when they occur.
What is Crossmark?
CrossMark, a multi-publisher initiative from CrossRef, provides a standard way for readers to locate the authoritative version of a document. Jurnal Teknologi dan Sistem Komputer recognizes the importance of the integrity and completeness of the scholarly record to researchers and librarians and attaches the highest importance to maintaining trust in the authority of its electronic archive. Clicking on the CrossMark icon will inform the reader of the current status of a document and may also provide additional publication record information about the document.
SUPPORT BY:
Make a Submission
Published Vol. 5 No. 1, December 2023
Last submission  November 20, 2023
Best regards,
Editor in Chief
Current Issue
Vol. 5 No. 1 (2023): Journal of Science Technology (JoSTec)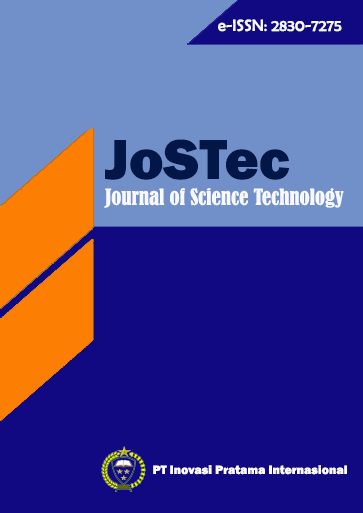 LIST OF ACCEPTED PAPERS
Each paper requires minor changes for it to be accepted. Editors will go through the revisions and gives a final approval. However, it is good to remember that "this status decision" does not guarantee acceptance. The paper will be accepted only if the editors are satisfied with the changes made.
View All Issues