Perspektif UUPT Terkait Asas Hukum Terang dan Tunai Perjanjian Jual-Beli Saham
Keywords:
Agreement, Sale and Purchase, Shares. Light and Cash
Abstract
There are still many who do not use the deed of sale and purchase of shares as proof of the transfer of rights and only use the Deed of Minutes of the General Meeting of Shareholders. The formulation of the problem in this study is how to regulate the sale and purchase of shares, is it legal if there are parties who carry out the sale and purchase of shares before a notary but do not implement the clear and cash legal principles, what efforts can be made by the seller if the shares have switched but the buyer has not carry out their obligations. This study uses descriptive methods through normative juridical and empirical juridical approaches to obtain secondary data. The results of the study indicate that the regulations that specifically regulate the procedure for buying and selling shares or transferring rights to shares are UUPT no. 40 of 2007 concerning Limited Liability Companies (PT) and also the Articles of Association of Limited Liability Companies, namely:1. Done by Deed of Transfer of Rights; 2. Submission of Deed to PT; Recording and Notification by the Board of Directors. 3. The Board of Directors also notifies the change in the composition of shareholders to the Minister of Human Rights to be recorded in the register of PT. The sale and purchase of share transfers must comply with clear and real principles so that there are no lawsuits arising in the future. 
Downloads
Download data is not yet available.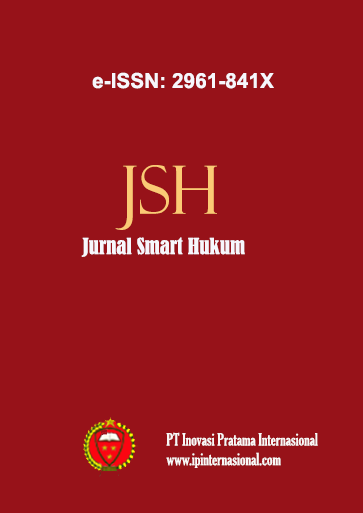 How to Cite
Usman Efendi Marpaung. (2022). Perspektif UUPT Terkait Asas Hukum Terang dan Tunai Perjanjian Jual-Beli Saham. Jurnal Smart Hukum (JSH), 1(1), 01–08. https://doi.org/10.55299/jsh.v1i1.105
Copyright & Licensing
Copyright (c) 2022 Usman Efendi Marpaung
This work is licensed under a Creative Commons Attribution-ShareAlike 4.0 International License.