Jurnal Smart Hukum (JSH) E-ISSN. 2961-841X is a Legal science journal issued by Inovasi Pratama Internasional. Ltd. The Editorial Board only accepts research and discussion in the field of law which is already in the form of journal articles to be considered for publication. The focus of this journal are;
Law with the fields of Criminal Law
Civil Law
International Law
Constitutional Law
Administrative Law
Islamic Law
Economic Law
Medical Law
Customary Law
Environmental Law
and other parts related to contemporary issues in law.
SUPPORT BY
Current Issue
Vol. 2 No. 1 (2023): June-September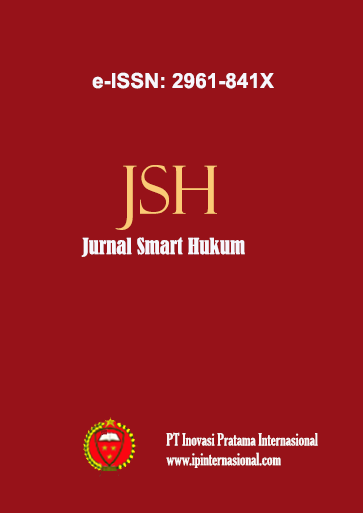 LIST OF ACCEPTED PAPERS
Each paper requires minor changes for it to be accepted. Editors will go through the revisions and gives a final approval. However, it is good to remember that "this status decision" does not guarantee acceptance. The paper will be accepted only if the editors are satisfied with the changes made.
View All Issues