Implementasi Pembiayaan Pendaftaran Tanah Sistematis Lengkap (PTSL)
Keywords:
Implementation, PTSL, Financing
Abstract
PTSL is one of the programs organized by the Government to assist communities in obtaining land certificates. The purpose of this study was to determine the PTSL financing procedure based on the 3 Ministerial Decree, PTSL legal certainty, as well as to determine the dispute resolution in PTSL. This research is descriptive and the approach used is normative and empirical juridical research. The data collection tools are document studies and interviews and are analyzed qualitatively. The PTSL financing procedure at the South Tapanuli Regency Land Office is based on the Regulation of the Minister of Agrarian Affairs and Spatial Planning/Head of the National Land Agency Number 6 of 2018. In the PTSL management program the funds are borne by the government and borne by the community. Funds borne by the government such as the cost of measurement, committee and registration. As for the costs of land certificates for which there are no documents, stakes, seals, it is borne by the community. The implication of PTSL based on the Ministerial Decree 3 is to provide legal protection to the holder of the right to a plot of land in the form of granting a certificate of land rights. Dispute resolution in PTSL is that if there is an error in data, both physical data and juridical data at the time of data announcement in the village/kelurahan, it can be corrected again before a certificate is made, but if the certificate has been issued but there are data errors in it, then the wrong data can be objected to the Office National Land Agency and can be resolved through litigation or non-litigation.
Downloads
Download data is not yet available.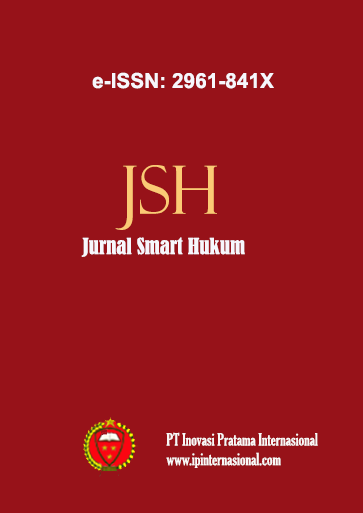 How to Cite
Julpan Harahap. (2022). Implementasi Pembiayaan Pendaftaran Tanah Sistematis Lengkap (PTSL). Jurnal Smart Hukum (JSH), 1(1), 97–107. https://doi.org/10.55299/jsh.v1i1.140
Copyright & Licensing
Copyright (c) 2022 Julpan Harahap
This work is licensed under a Creative Commons Attribution-ShareAlike 4.0 International License.