Pertimbangan Hakim Dalam Memutuskan Perkara Tindak Pidana Penyalahgunaan Narkotika Golongan 1 Bagi Diri Sendiri
Keywords:
Judge's Consideration, Narcotics Abuse Group 1 For Yourself, Number 1/Pid.Sus-anak/2019/Pn Lbp
Abstract
Narcotics abuse no longer looks at age, ranging from children, teenagers, adults to the elderly even though they are not free from the trap of narcotics abuse. It is estimated that around 1.5 percent of the total population of Indonesia are victims of narcotics abuse. The problem of narcotics circulation is no less worrying, because it does not only occur in big cities but also reaches remote parts of Indonesia. Misuse of psychotropic substances can lead to a dependency syndrome if their use is not under the supervision and guidance of health workers who have the expertise and authority to do so. The reality in society shows that psychotropics should be used in health services and science has been abused. The use of this substance is beyond the limit, which is generally intended to obtain temporary pleasure. This causes people who are addicted to psychotropics to increase. The demand for psychotropics in the black market is also getting bigger. The crime rate that arises from the urge to get psychotropics as well as those that occur after someone consumes them also increases. This research method is normative juridical which will explore various secondary literatures consisting of legislation, regulations, books, journals and papers related to patents. The author uses a normative juridical method because the target of this research is law and rule. The definition of rules includes, legal principles, rules in a narrow sense and concrete legal regulations. This normative juridical research method aims to find coherent truth through deductive reasoning. Deductive way of thinking means research will depart from a specific idea. Data collection methods are through: questionnaires, interviews, observations, exams (tests), documentation, and others. Researchers can use one or a combination of techniques depending on the problem at hand or being studied. 
Downloads
Download data is not yet available.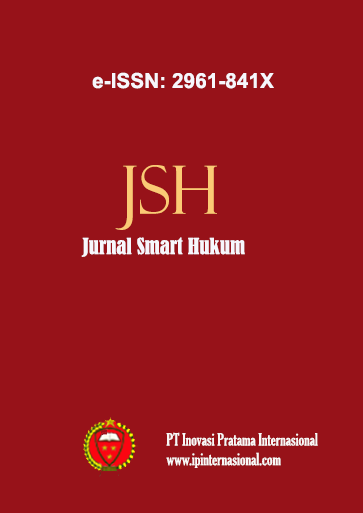 How to Cite
Muhammad Akbar, & Syahrul bakti Harahap. (2022). Pertimbangan Hakim Dalam Memutuskan Perkara Tindak Pidana Penyalahgunaan Narkotika Golongan 1 Bagi Diri Sendiri. Jurnal Smart Hukum (JSH), 1(1), 229–237. https://doi.org/10.55299/jsh.v1i1.154
Copyright & Licensing
Copyright (c) 2022 Muhammad Akbar, Syahrul bakti Harahap
This work is licensed under a Creative Commons Attribution-ShareAlike 4.0 International License.