THE EFFECT OF AGRICULTURAL CREDIT ON THE WELFARE OF OIL PALM FARMERS IN LABUHAN BATU UTARA DISTRICT
Keywords:
Agricultural Credit, Income, Welfare
Abstract
The national economy seeks to improve the welfare of the people, which is supported by the agricultural sector. The role of the agricultural sector will be more optimal if it is supported by an integrated, sustainable planning system, and balanced with the provision of an adequate budget in the form of capital. Capital problems are the main problem faced by farmers, although many farmers have the ability to increase their agricultural output if they do not have adequate capital, then these farmers will not be able to develop their agriculture. So to overcome the lack of capital, farmers will apply for credit loans to financial institutions, both formal and informal. However, the development of credit is currently increasing, especially credit for the agricultural sector which is programmed by the government to improve the rural economy which is an agricultural area. Agricultural credit has a very important role in developing agricultural development to obtain greater production results. If production increases, the income of farmers will also increase for the welfare of the farmer. Therefore, researchers have conducted research by using the research method of distributing 30 questionnaires to oil palm farmers in North Labuhanbatu Regency. The research variables are own capital (X1), credit capital (X2), and land area (X3) using multiple linear regression analysis. Based on the results of the analysis, it can be concluded that the application of agricultural credit in North Labuhanbatu Regency has been applied well but not fully for the management of oil palm agriculture.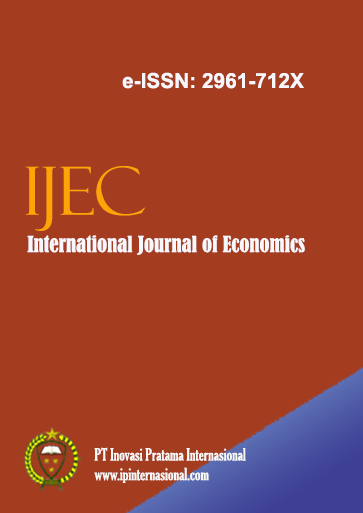 How to Cite
Limega Candrasa. (2022). THE EFFECT OF AGRICULTURAL CREDIT ON THE WELFARE OF OIL PALM FARMERS IN LABUHAN BATU UTARA DISTRICT. International Journal of Economics (IJEC), 1(1), 194–202. https://doi.org/10.55299/ijec.v1i1.113
Copyright & Licensing
Copyright (c) 2022 Limega Candrasa
This work is licensed under a Creative Commons Attribution-ShareAlike 4.0 International License.