International Journal of Economics (IJEC) E-ISSN. 2961-712X is a refereed publication that comes to address the Economic and Administration challenges that economic units of various nature face in today's rapidly changing international economic environment. It is designed to publish original and high quality research work that will cast light in contemporary issues and will pave the way for the application of mould-braking solutions. IJEC's general scope is to stimulate, promote and disseminate contemporary research that will have a significant impact on the theory and practice of Businesses, Public Organizations and other Institutions. IJEC's aims to bridge the gap between theoretical developments and applied, policy-oriented research, becoming the ideal vehicle of advancing innovative ideas in the framework of entities' economic management and general administration. In this context, the International Journal of Economics (IJEC) is bound to have a distinctive interdisciplinary profile, destined to cover a wide variety of topics spanning from;
Business
Management
Finance
Accounting
Insurance
Risk Management
Auditing
Banking
International Economics
Islamic economics
Social Science
The ultimate mission of the International Journal of Economics (IJEC) is to constitute a valuable resource of scientific knowledge and applied research results for academics, practitioners and policy-makers becoming an indispensable ally in tackling modern economy's challenges.
SUPPORT BY:
CALL FOR PAPER
Make a Submission
Published Vol. 2 No. 1, June 2023
Last submission  May 20, 2023
Email  : journal.ijec@gmail.com
Best regards,
Editor in Chief
Current Issue
Vol. 2 No. 1 (2023): January-June 2023-INPRESS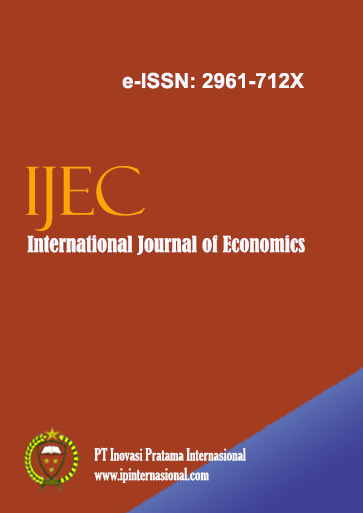 LIST OF ACCEPTED PAPERS
Each paper requires minor changes for it to be accepted. Editors will go through the revisions and gives a final approval. However, it is good to remember that "this status decision" does not guarantee acceptance. The paper will be accepted only if the editors are satisfied with the changes made.
View All Issues