Shift Share Analysis of Growth, Shifts and Links Between Economic Sectors in Medan City
Keywords:
Shift-Share, Location Quotient, Granger Causality, Growth, PDRB, economic sector
Abstract
The process of sustainable economic growth is the main condition for the continuity of local economic development. Economic needs will continue to increase along with increasing population growth and so we need an increase in income every year. This can be achieved by increasing aggregate output (goods and services) or PD RB every year. This increase was due to the contribution of the economic sector having shifted although it was relatively insignificant. Sectors that were originally dominant sectors experienced a shift and had an impact on other sectors. The purpose of this study is to investigate and analyze sector to basic and non-sector basis, changes and shifts between sectors and between sectors in the economic causality area of Medan city. By using secondary data sourced from the field in figures for the years 2003 - 2012, the data analysis method used in this study is to use Location Quotient (LQ), Shift-Share analysis and Granger Causality. The estimation results using Location Quotient (LQ) show that the communication sector, financial institutions and banks, electricity, construction and trade, hotels and restaurants and the service sector are the economic base sectors in Medan. From the analysis of the shift-share increase that occurred at the aggregate level of economic output for 2003 - 2012 and amounted to 83.15 percent due to the effect of economic growth at the provincial level, the overall economic sector of Medan still has a lot of competitiveness or local independence in trade, communication, banking, industrial, building/construction and service sectors.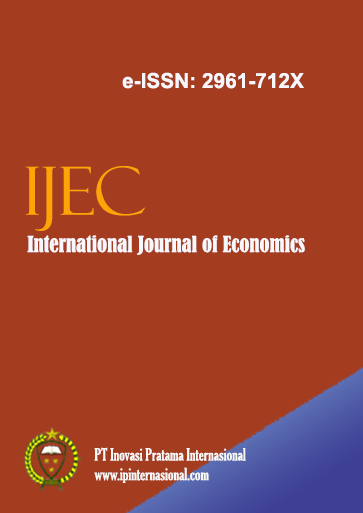 How to Cite
Parlaban Karo-Karo. (2022). Shift Share Analysis of Growth, Shifts and Links Between Economic Sectors in Medan City. International Journal of Economics (IJEC), 1(1), 270–274. https://doi.org/10.55299/ijec.v1i1.172
Copyright & Licensing
Copyright (c) 2022 Parlaban Karo-Karo
This work is licensed under a Creative Commons Attribution-ShareAlike 4.0 International License.