The Lecturers' Strategies in Teaching Reading Comprehension for Management Students
Keywords:
Teaching Strategy, Reading Comprehension, Management Students
Abstract
English is one of the subjects taught at the university level, as well for management study program at the STIE Bina Karya, where the students focus their learning not on English, but have to take English courses as a general subject. This study aimed to find out what strategies are applied by lecturers in teaching reading comprehension for management students at STIE Bina Karya. The participants of this research are two English lecturers at STIE Bina Karya. This descriptive qualitative design applied a questionnaire for collecting the data. The result of this research showed that there are some different activities were carried out by the two lecturers at the while-reading stage. The first lecturer prefers to ask students to read the text one by one to improve their pronunciation. However, sometimes she asked them to read the text silently. Meanwhile, another lecturer prefers asking the students to read silently to gain better comprehension. Moreover, both lecturers agreed that in pre-reading activities, lecturers have to first use a strategy to attract students' interest in learning English and make it easier for them to understand the material content. For measuring students' understanding, they gave questions related to the text at the post-reading stage. Beside that, students are trained to create sentences from the word chosen from text, discuss the students' answers, review the lesson and lastly explain the conclusion.
References
Abulhul, Z. (2021). Teaching Strategies for Enhancing Student's. Journal of Practical Studies in Education, 2(3): 1-4. https://doi.org/10.46809/jpse.v2i3.22.
Alwasilah, C. (2013). Policy on Foreign Language Education in Indonesia. International Journal of Education, 17(1):1-19. https://doi.org/10.17509/ije.v7i1.5302.
Amirian, and Reza, S.M. (2013). Teaching Reading Strategies to ESP Readers. International Journal of Research Studies in Educational Technology, 2 (2):19–26. https://doi.org/10.5861/ijrset.2013.318.
Antoni, Nurman. (2010). "Exploring ELF Teachers' Strategies in Teaching Reading Comprehension. Jurnal Penelitian Pendidikan, 11 (2):39–51.
Brown, H. Douglas. (2004). Language Assessment: Principles and Classroom Practices. Longman.
Burns, A. (2006). Collaborative action research for English language teachers. Cambridge University Press.
Celce-Murcia, Marianne. (2001). Teaching English as a Second or Foreign Language (3rd Edition). Heinle & Heinle Thomson Learning.
Dwiningtiyas, G.N., Sofyan, D., & Puspita, H. (2020). Teachers' Strategies in Teaching Reading Comprehension. JALL (Journal of Applied Linguistics and Literacy, 4 (2):66–77. https://doi.org/10.22460/project.v4i2.p285-289.
Grabe, W., & Stoller F.L. (2002). Teaching and Researching Reading. Reading in a Foreign Language, 14 (3):155–58. https://doi: 10.1016/j.system.2012.06.004.
Klingner, J.K., Vaughn, S., & Boardman A. (2007). Teaching Reading Comprehension to Students with Learning Difficulties. edited by K. R. Harris and S. Graham. The Guilford Press.
Mishra, S.B., Alok, S. (2017). Handbook of Research Methodology: A Compendium for Scholars & Researchers. Educreation Publishing.
Muslaini. (2017) Strategies for Teaching Reading Comprehension. English Educational Jurnal, 8 (1):66–77.
Nurdianingsih, F. (2021). Teachers' Strategies in Teaching Reading Comprehension. PROJECT (Professional Journal of English Education), 4 (2):285–89. https://doi.org/10.22460/PROJECT.V4I2.P285-289.
Poon, J. (2013). Blended learning: An institutional approach for enhancing students' learning experiences. Journal of Online Learning and Teaching, 9(2), 271-288. http://dro.deakin.edu.au/eserv/DU:30057995/poon-blendedlearning-2013.pdf
Setiyadi, & Bambang, A. (2020). Teaching English as A Foreign Language (2nd Ed). Graha Ilmu.
Tran, Y. (2014). Brainstorming as a Pre-Reading Technique for EFL Vietnamese Learners. Asian Journal of Educational Research, 2 (3): 1-7.
Wallace, C. (2001). Reading. Oxford University Press.
Widiyanti, T., Batubara, A., & Hamsia W. (2014). The Techniques of Teaching Reading Comprehension at Second Grade Students at SMP Institut Indonesia. TELL: Teaching of English Language and Literature Journal, 2(1): 25-30. http://dx.doi.org/10.30651/tell.v2i1.2170.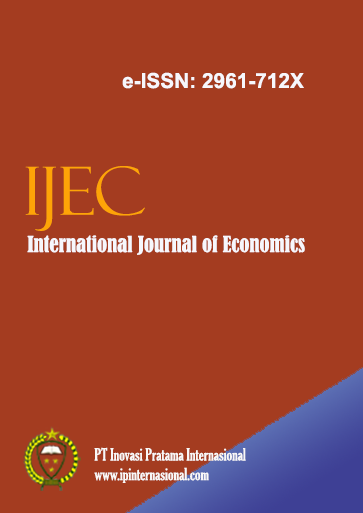 How to Cite
Dwi Handayani Silitonga. (2022). The Lecturers' Strategies in Teaching Reading Comprehension for Management Students. International Journal of Economics (IJEC), 1(2), 405–410. https://doi.org/10.55299/ijec.v1i2.278
Copyright & Licensing
Copyright (c) 2022 Dwi Handayani Silitonga
This work is licensed under a Creative Commons Attribution-ShareAlike 4.0 International License.