All material submitted to International Journal of Public Health Excellence (IJPHE) is subject to rigorous peer review using a 'double-blind' refereeing process. The Editorial Board, strengthened by regional editors in about seven countries, welcomes contributions from around the world. It is the real goal of International Journal of Public Health Excellence (IJPHE) to influence the future of public health and its acceptance nationally and internationally by publishing innovative contributions to every aspect of the public health.
International Journal of Public Health Excellence (IJPHE), ISSN 2809-9826 (online) has a subject area as follows, but is not limited to the following health areas that are;
Reproduction health
Medical service
Health statistics
Health management
Oral hygiene
Medical bio
Civilized environmental health
Universal health
Nursing
Health care provider
Health entrepreneur
Health research
Health innovation
Infectious diseases and their treatment
Medical insurance
Medical neuroscience
Occupational health and safety
Public health science
Midwifery
Health Sciences
| | | |
| --- | --- | --- |
| Journal Name |  :   | |
| Journal Abbr. |  : | Int Jou of PHE |
| ISSN |  : | 2809-9826 (Online) |
| DOI |  : | |
| Pub. Frequency |  : | Two times in a year (December & May) |
| Indexed |  : | EBSCO, Crossref, Index Copernicus International, Dimensions, BASE, Google Scholar, Smantic Scholar, Neliti, OneSearch Indonesia, Journal Stories, Cite Factor, GARUDA Kemdikbudristek RI, & Researgate |
| Publisher |  : | |
SUPPORT BY:
Current Issue
Vol. 3 No. 1 (2023): June-December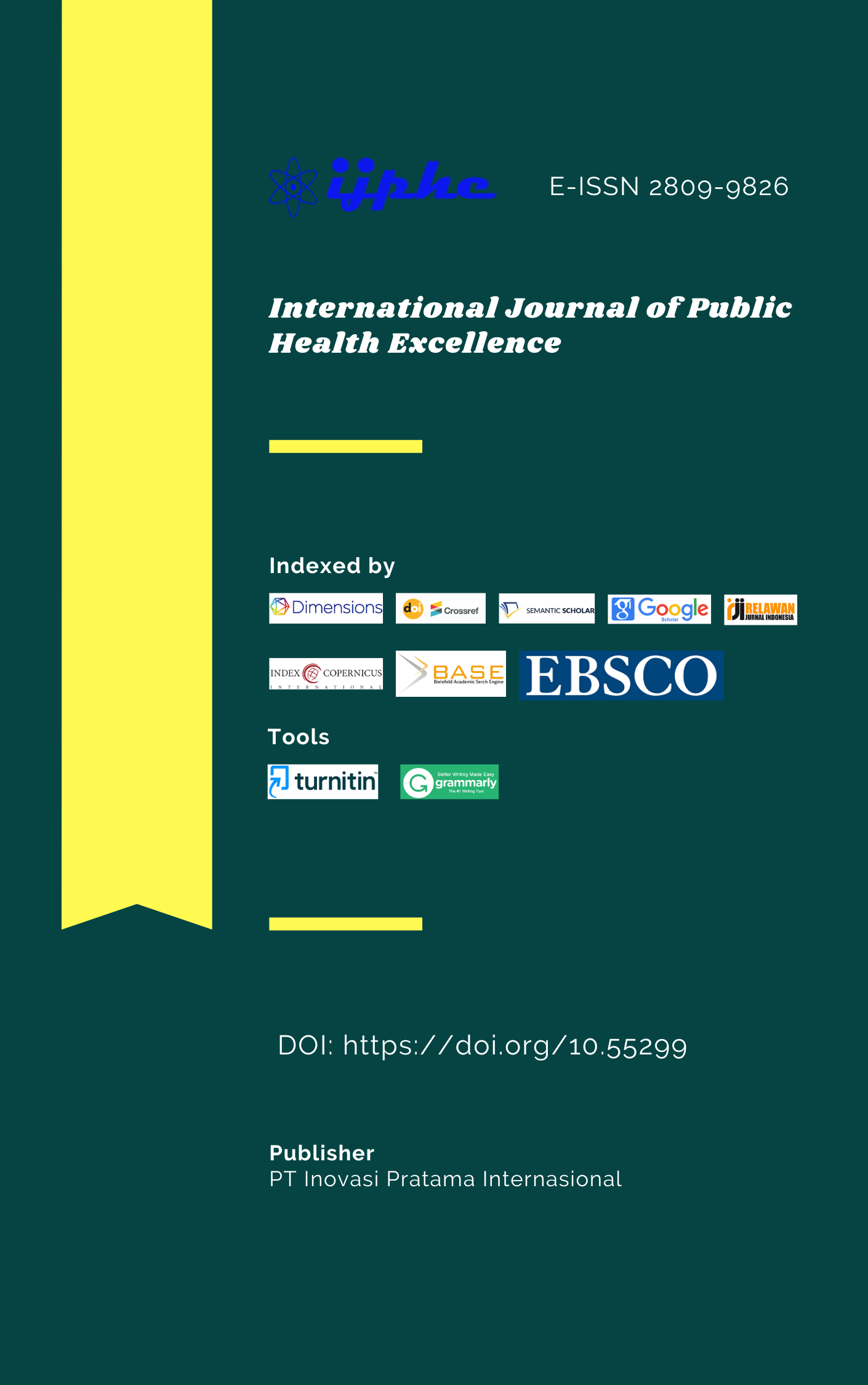 LIST OF ACCEPTED PAPERS
Each paper requires minor changes for it to be accepted. Editors will go through the revisions and gives a final approval. However, it is good to remember that "this status decision" does not guarantee acceptance. The paper will be accepted only if the editors are satisfied with the changes made.
View All Issues