Marketing Mix Strategy In Attracting Consumer Buying Interest
Keywords:
Strategy, Marketing Mix, Consumer Buying Interest
Abstract
The marketing mix in a company or business is very influential in driving business development. The variables of the marketing mix used by Roti Bulan Cap Mawar are Product, Price, Distribution/Place and Promotion. The success of a company is determined by the ability of a businessman to maximize these four variables. Therefore the researchers conducted research related to the marketing mix in attracting consumer buying interest. Rose stamp moon bread is it in accordance with the marketing mix. In this study, the researcher used qualitative methods while the nature of the research that the researcher used was replication. The data source that the author used was primary data sources obtained from moon bread owners, employees and consumers. Secondary data sources were obtained from books related to the marketing mix, consumer behavior and consumer buying interest. Methods of data collection researchers used interviews, observation and documentation. Methods of data analysis researchers use qualitative data analysis by using a deductive way of thinking. The results of the study showed that the moon bread stamp rose had carried out the product marketing mix strategy, price, distribution/place, and promotion in accordance with the marketing mix theory, resulting in an increase in consumer buying interest and an increase in income. It's just that the moon bread stamped rose has not been maximal in carrying out promotional activities.
Downloads
Download data is not yet available.
References
Aidi Wahyu (2017) Entrepreneurship . Jakarta: : Enno Media.
Alase, A. (2017) The Interpretative Phenomenological Analysis (IPA) . Tasikmalaya: : Siliwangi Knights.
Alma Buchari (2016) Marketing Management and Service Marketing . Bandung: CV Alfabeta.
Fandy Tjiptono (2017) Service Marketing Management . Jakarta: Gramedia Group Index PT.
Gitosudarmo (2017) Marketing Management: Second Edition . Yogyakarta: : BPFE.
Kotler and Armstrong (2012) Fundamentals of Marketing. Jakarta: Prenhalindo.
Kotler and Keller (2012) Marketing Management . Jakarta: Airlangga.
Kuel, PAL and CR (2019) Entrepreneurship . New Jersey: Prentice Hall, Inc.
Moleong, LJ (2017) Qualitative Research Methods . Bandung: : PT. Offset Rosdakarya Youth.
Murti and John Soeprihanto (2016) Introduction to Business (Fundamentals of Corporate Economics) . Yogyakarta: : Liberty Yogyakarta.
Pramono (2012) Considerations in Buying. Goods and Services Products . Jakarta: Intidayu Press.
Rambat Lupiyoadi, DAH (2017) Service marketing management . Jakarta: : Salemba Empat.
Ratnasari Tri Ririn, MHA (2019) Service Marketing Management . Bogor: Publisher: Ghalia Indonesia.
ridwan iskandar (2016) 'Pricing Method'.
hose (2013) Marketing Mix Influence on Consumer Loyalty . Manado: Management journal publisher.
Stanton, WJ (2012) Marketing principles . Bandung: Alphabet.
Sugiyono (2017) Quantitative, Qualitative Research Methods . Bandung: : CV. Alphabet.
Swastha and Irawan (2013) Modern Marketing Management . Yogyakarta: Liberty.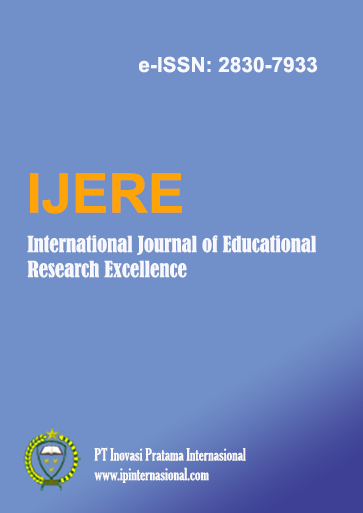 How to Cite
Fardhoni. (2020). Marketing Mix Strategy In Attracting Consumer Buying Interest. International Journal of Educational Research Excellence (IJERE), 39–43. https://doi.org/10.55299/ijere.v1iSpecial Issues June.292
Copyright & Licensing
Copyright (c) 2020 Fardhoni
This work is licensed under a Creative Commons Attribution-ShareAlike 4.0 International License.