Welcome to the International Journal of Educational Research Excellence (IJERE), ISSN. 2830-7933 (Online). IJERE is the first open access and double-blind peer-reviewed international journal managed by PT Inovasi Pratama Internasional, which exclusively focuses on education and Education technology. This first international journal is a part of the Publisher's strong commitment to education, which is expected to be the medium for the exchange of ideas, knowledge, information, and technology among experts and practitioners of education. IJERE aims to facilitate and promote the inquiry into and dissemination of research results on primary education, secondary education, higher education, teacher education, special education, adult education, non-formal education, and any new development and advancement in the field of education. The scope of our journal includes; Language and literature education, Social science education, Sports and health education, Economics and business education, Math and natural science education, Vocational and engineering education, and Visual arts, dance, music, and design education.
SUPPORT BY:
CALL FOR PAPER
Make a Submission
Published Vol. 2 No. 1, June 2023
Last submission  May 20, 2023
Best regards,
Editor in Chief
Current Issue
Special Issues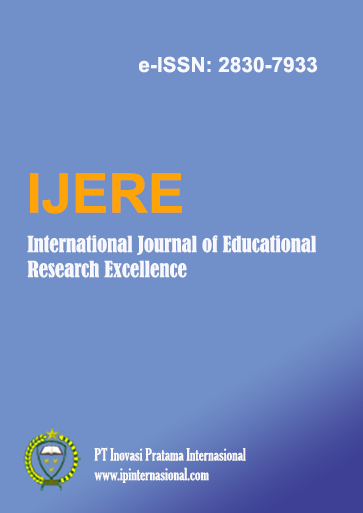 LIST OF ACCEPTED PAPERS
Each paper requires minor changes for it to be accepted. Editors will go through the revisions and gives a final approval. However, it is good to remember that "this status decision" does not guarantee acceptance. The paper will be accepted only if the editors are satisfied with the changes made.
View All Issues